The SQLBits 2022, or There and Back Again
Background 🔗︎
It's a dangerous business, Frodo, going out your door.
— Frodo (quoting Bilbo Baggins)
I've never been to an in-person conference. I haven't been to many virtual ones either - the major ones I've been to are SQLBits 2020 and PASS Data Community Summit 2021.
So I thought when having a new experience, why not make it double trouble and try speaking for the first time as well. So I've asked my mentor, Tracy Boggiano to help me with a session, and we submitted it together. We worked on a session together but sadly, Tracy had to cancel last minute due to unforeseen circumstances. So it would be just me delivering it.
Traveling 🔗︎
We have till dawn. Then we must ride.
— Aragorn
I'm not too fond of travelling. London isn't that far away, but I still had to wake up before 5 am, take a bus, train, bus again, plane, Tube, DLR and some walking and waiting to get to the hotel.
I've liked London public transport because I didn't have to change to local currency or buy a paper ticket. Just tap in and tap out with the debit card, and it figured out the price for you. Thanks to the community on SQL Server Slack for the travel tips. I'll skip the info about the hotel or the venue.
Opening of the conference 🔗︎
A wizard is never late, Frodo Baggins. Nor is he early; he arrives precisely when he means to.
— Gandalf
The opening day had a few minor issues. First, the projected start was at 9 am, but the gate opened at 10:15. But the conference newcomers were encouraged to attend a Bit Buddy welcome session planned at 8, meaning they had to wait for the longest.
There were additional problems with the conference wifi, which meant people were switching to the free ExCeL wifi or creating personal hotspots, which (you've guessed it) made the connection problems even worse.
So with the late start, my first day training session had to make up for the lost time. But alas, it was very internet dependent, and the problems with the wifi caused issues to the session flow.
While the first day had a rocky start, organizing and building an event like this must be incredibly hard. However, the rest of the conference more than made up for it.
Planning the schedule 🔗︎
All we have to decide is what to do with the time that is given us.
— Gandalf
My strategy was to go through the app and pick the sessions - first by title, then by abstract. The session topics seemed well balanced by the organizers. I've skipped all the PowerBi/Data analysis and most Azure sessions because they are not that relevant to me.
I've enjoyed the tags used for filtering the sessions. However, I can imagine it could be improved further by combined filtering. For example, only look for Intermediate sessions with the How tag and not Azure specific.
It was essential to plan the schedule because the venue was large, and you had to find your way to the next room.
Just so you have an idea of the scale, here is the layout that I've grabbed from the CrowdCompass.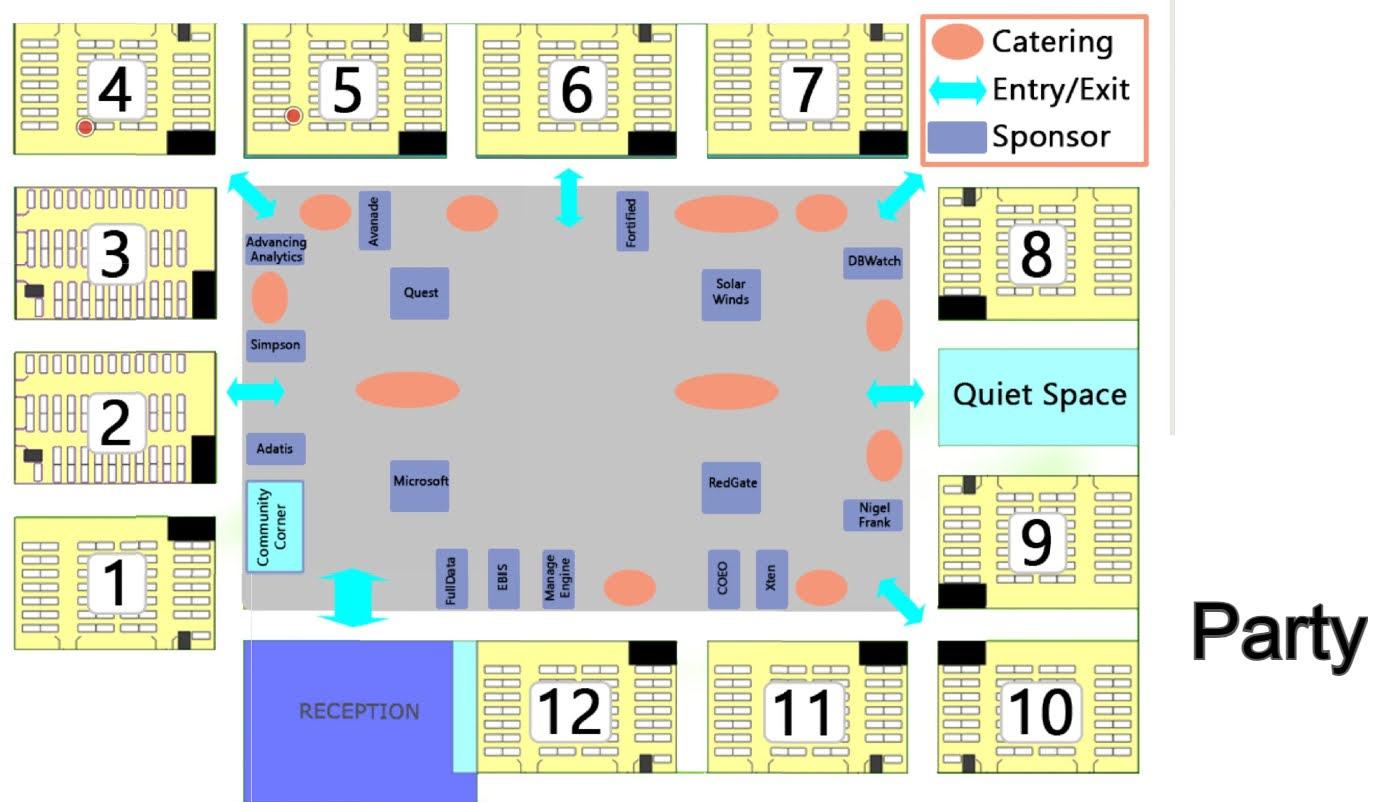 But the sessions were only part of the conference value. I also wanted to meet the people - something that's not as good in the virtual space (even with the SpatialChat).
Networking 🔗︎
Not all those who wander are lost.
— Bilbo Baggins
The best times I've had were between the sessions - in the community zone or around the booths.
Everyone was super friendly and polite, never turning me down. However, it was the first larger in-person conference for many regulars, and they probably wanted to catch up with their friends after the two-year-long pause.
This situation made it harder to approach the SQL Server "celebrities" without that I'm bothering them.
It was also challenging to find people with the same specialization. It felt like I've only talked with the PowerBI folks.
Maybe some form of colour-coding (lanyards, delegate cards, t-shirts, etc.) could help find like-minded people.
My session 🔗︎
Even the smallest person can change the course of the future.
— Galadriel
Lead up 🔗︎
I've tried to lure additional people to my session using social media's power with some game-themed self-promotion. Here are all the Tweets in chronological order; I had a great time coming up with those:
It's Friday, Friday
Gotta get down on Friday…

I'll be presenting next Friday at #sqlbits.
Which seat shall you take?

Kickin' in the front seat?
Sittin' in the back seat?

You gotta make your mind! pic.twitter.com/sLFYDfC1mu

— Tom Zíka (@Zikato25) March 4, 2022
Did you ever try to use Extended Events and hurt yourself in your confusion?
Sqlbits attendees, I choose you!

In turn, choose this session:https://t.co/8BR3pCNJKi

Let's CUT down the time to debug and solve the problems in a FLASH.
It's Super Effective!#SQLBits #SQLBits2022 pic.twitter.com/tSj61BDJLF

— Tom Zíka (@Zikato25) March 7, 2022
Medallion's humming. Place of Learning, it's gotta be.
Better take a look around.

Skip a round of Gwent and join my session instead to start using Extended Events with no prior experience.https://t.co/8BR3pCNJKi

Don't meditate on this. No potions or oils are required#SQLBits pic.twitter.com/5nabbYseBT

— Tom Zíka (@Zikato25) March 8, 2022
Hello and, again, welcome to the Aperture Science knowledge Enrichment Center.

Please attend this session on Extended Events as part of a required test protocol. https://t.co/8BR3pCNJKi

Cake and grief counselling will be available at the conclusion of the session.#SQLBits pic.twitter.com/YPxAUODYiY

— Tom Zíka (@Zikato25) March 9, 2022
Hey! Listen!
I want to share with you how to get started with Extended Events -
It's a secret to everybody.

Are you tired of my self-promotion spam? Well excuse me, princess.

It's dangerous to go alone! Take this https://t.co/8BR3pCw8lI

(Link is attached)#SQLBits pic.twitter.com/5vK8fETclM

— Tom Zíka (@Zikato25) March 10, 2022
Do you want to achieve FLAWLESS VICTORY at work?
Learn how to leverage Extended Events and TEST YOUR MIGHT when you return.

What are you waiting for? Don't FIGHT it and
GET OVER HERE!https://t.co/8BR3pCNJKi#SQLBits pic.twitter.com/xJfD5ahcvG

— Tom Zíka (@Zikato25) March 11, 2022
Presenting 🔗︎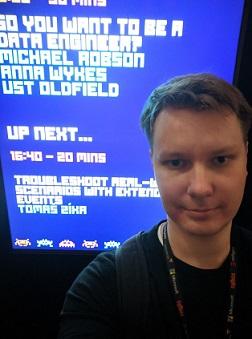 As you can probably tell from the photo, I was extremely nervous. I've slept like a baby the night before - I've cried all night and soiled myself 🥁.
The nervousness came mainly from not having enough time, so I had to follow a very tight schedule. Any blunder or stutter (English is my second language) could set me back, and I wouldn't be able to catch up. Two tips that I've got from previous sessions helped in particular:
Practice the first 5 minutes over and over again until it's automatic (kudos to Cathrine Wilhelmsen)
Make a checklist from Kevin Kline - I made one to setup up my demo correctly.
I think I had at least 12 attendees, but it was hard seeing them with the lights in my face. No idea how many people joined online.
All in all, I think it went well. I've only had one major blunder for a demo-heavy session, but I think I've recovered nicely. We'll see on the replay and in the feedback forms.
The first feedback I've got was from Grant Fritchey (a fellow Extended Events enthusiast), who heard about it and volunteered to go there - for which I'm grateful.
Lessons learned 🔗︎
I thought the 20-minute sessions were more beginner-friendly, but it seems one of the hardest. Just welcoming the attendees and introducing yourself can take up to 3 minutes. Additional 2-4 minutes for the wrap-up, questions, feedback, etc. Not a lot of time.
I overestimated how much content I could fit in the sessions when writing the abstract. I couldn't change it too much after the realization - I wouldn't keep the promises made in the text.
Next time I would go for either a longer session or less content.
The entertainment 🔗︎
Gentlemen, we do not stop till nightfall.
— Aragorn
There was a board game night, pub quiz night and costume fancy dress party. I've spent each of these three activities with a different group of people and had a blast.
I mostly looked forward to the party because getting the costume ready took some time and effort.
From the very beginning, when the theme was unveiled, I knew that the centrepiece of my costume would be a face mask (at the time, Covid rules were more strict in the UK). So Mortal Kombat had plenty of characters that could do that - I've just picked my favourite.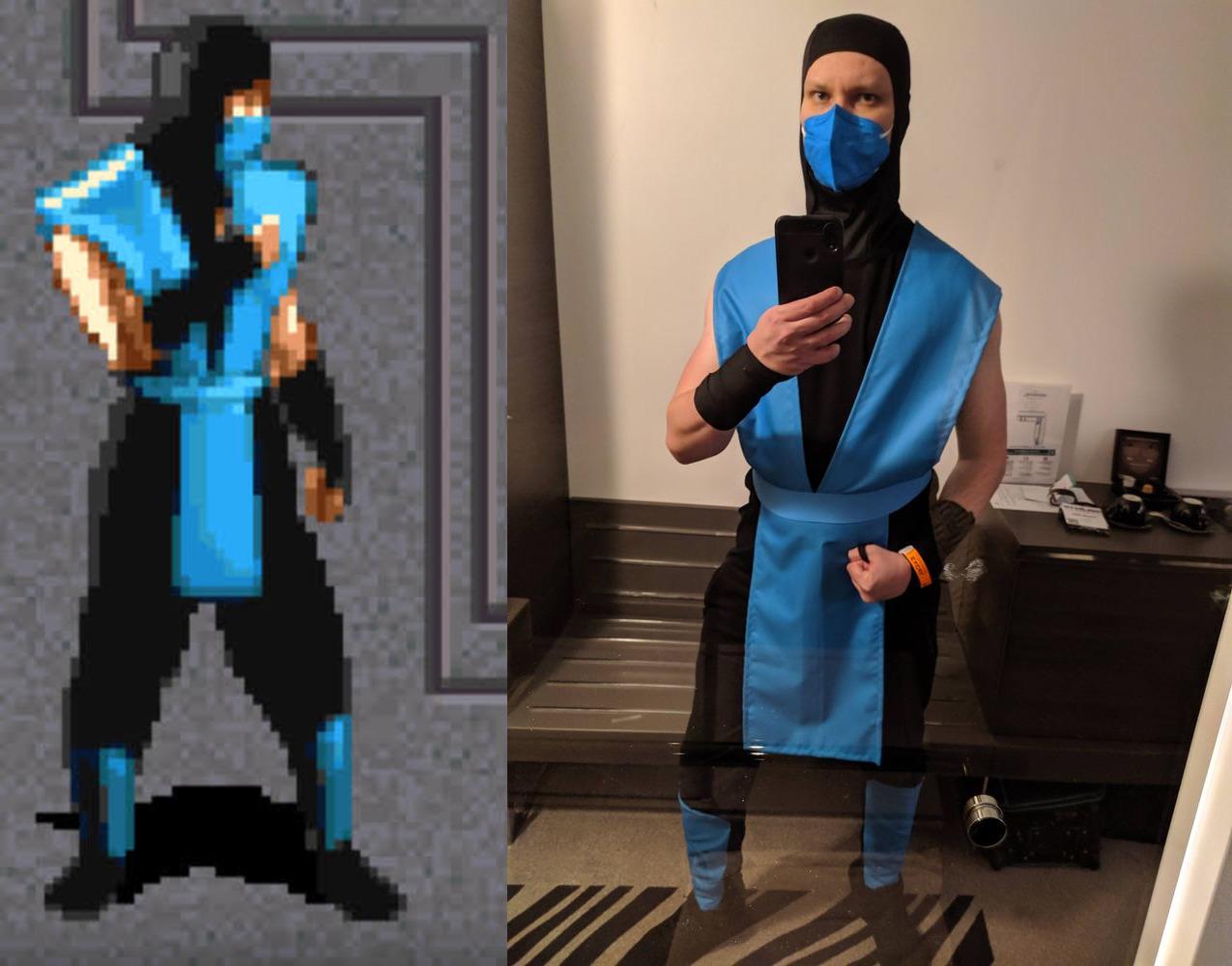 I'm not the one for loud music, so I was happy there was a quiet area, which I've promptly used. I spent most of the night chatting with David Wiseman about the open-source monitoring tool DBA Dash - a time well spent!
Parting thoughts 🔗︎
Deeds will not be less valiant because they are unpraised.
— Aragorn
First, a huge thank you to the organizers, helpers and everyone else involved. You did an outstanding job, and I've enjoyed my time there. I can 100% recommend the experience, and I would gladly come back next year if I have the chance.
Well, here at last, dear friends, on the shores of the Sea comes the end of our time at SQLBits. Go in peace!